Professioneel datacenter
---

Webhostingcontact heeft gekozen voor EuNetworks als datacenter vanwege de
meer dan uitstekende faciliteiten die men te bieden heeft, beschikt over voldoende
capaciteit m.b.t de levering van stroom en koeling capaciteit.

De uitstekende faciliteiten van het Netwerk Operation Center kortweg NOC
genaamd zorgen voor de betrouwbare verbindingen van Webhostingcontact met
de rest van de wereld.

» http://www.eunetworks.nl
» Download datacentrum specificatie (PDF)
---
Datavloer » 6000 m2 space.
» All equipment designed to a minimum N+1 configuration.
» N+1 redundant powers paths independently supported.
» Critical power maintained by UPS systems.
» Power density of up to 2.0kVA per square meter.
» Diesel generators with onsite fuel for 48hours.
» Digital Access via proximity cards with full audit system.
» Digital video cameras monitor and record all areas.
» 24 x 7 monitoring from central security office.
» Temperature of 22 ° C ± 2.0°C in co-location room.
» Raised Floor (600mm) for spot cooling.
» VESDA fire detection and suppression with pre-action mist system.


---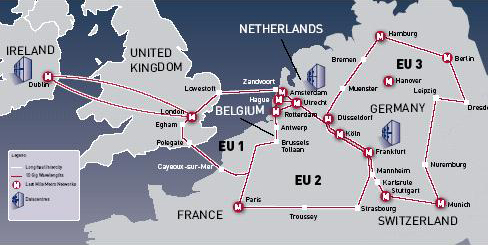 » Download Netwerk specificatie (PDF)

---
Foto impressie datacentrum

---